Description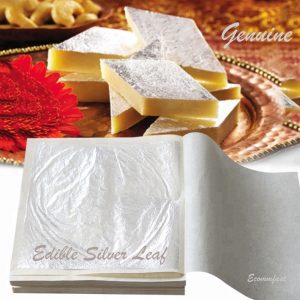 Edible Real Siver Leaf E174 Food additive approved by the E.U.
Silver E174 is a natural metal food additive approved by the European Union (EU). It is used as a colouring agent in food and drink products. There are no Dietary Restrictions and can be consumed by all religious groups, vegans and vegetarians.
Silver Leaf is very delicate, Try not to touch the Silver Leaf, it will stick to skin.
Leaf Size: 8cm x 8cm. Looks great on chocolates, cakes & strawberries, and also in drinks.
Silver leaf will stick to your hands, always handle using a brush, wooden tweezers, or cotton gloves, toothpicks or chopsticks. Carefully pick up the piece of gold and lightly place it where you would like it to go.